Get in Touch with Carrew Contracting Inc. today!
Fence, Deck & Aluminum Railing Specialists
Carrew Contracting Inc. has been serving Kelowna homeowners since 2008.
We are always looking to work with new clients and take on new projects.
Please feel free to contact us to discuss your project.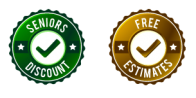 Want a Quote or Expert Advice? Contact us and we'd be glad to help.
Email Us
Call Us
We are happy to answer any questions you may have.